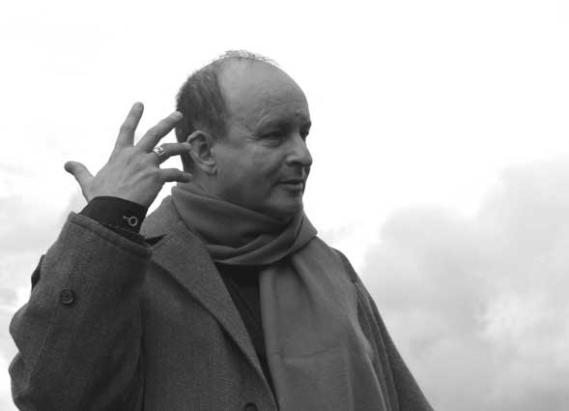 An interview has been published online, with Gavin Dixon talking to acclaimed Russian composer Alexander Raskatov (who, as you may know, was a close friend to Weinberg in his later years). Over the course of their conversation, they discuss Raskatov's recent works programmed at the Drogheda Festival. Of particular interest to readers of this blog, they begin to discuss Raskatov's work
Monk's Music
, which is dedicated to Weinberg. Raskatov recalls his close friendship with Weinberg, and then begins a poignant recollection of Weinberg's final years.
(From the website www.seenandheard-international.com, link below).
[Raskatov:] We were friends. When I was young, from around 1980, I often visited Weinberg. He invited me. He played me his music, I played him mine. We talked a lot. It was a fantastic time, and I thought it would never end. He played an important role because he always supported my music in all the Moscow institutions, the Union of Composers, the Ministry of Culture and so on. He was old school, full of old traditions. He had played four hands with Shostakovich, and he told me many things about his friendship with Shostakovich. But he was an extremely modest man. I came to him with my early Viola Concerto, which I had dedicated to him – I'd written the dedication in very grand, self-important language; I was young. I played it for him and he was very touched. He said: 'you know Sasha this is the third composition which is dedicated to me' I asked what the first two were, he said: 'the Tenth Quartet of Dmitri Dmitriyevich [Shostakovich] and then the Cello Sonata of Boris Tchaikovsky; and now you are the third one.' Anyway, during the 80s we met dozens of times. I helped him to organise the recording of his opera Portrait. We always had a lot of things to discuss.
[GD:] Listening to Raskatov talk about Weinberg's final years, it's clear his neglect was keenly felt.
[Raskatov:] When I left Russia, my departure was probably provoked by his illness. In 1993 I came to his house. He was very, very ill – he was dying really in poverty. He wasn't able to buy important medicines for his treatment. It all cost money, and our Union of Composers, our government was unable to help him. I spoke to Elena Vassilieva about this composer who was so ill, and she sent some money. She told me to just give it, from one French singer to a composer, it might help a little bit. And I came to him and I told him I had some money for him. And he asked: 'Sasha, is it your money?' I said: 'No, it is not mine, just take it.' And he cried. When I saw this I thought, if this composer, who wrote so many symphonies, quartets, and operas, is in such a helpless situation, and the country cannot do anything for him, what can there be here for us younger composers? So it was something very painful that I felt. He never knew it, but that was a turning point for me. It showed me the real situation of music in the 1990s. I left and soon after he died. I received a letter from his wife. I regret very much that I left without saying adieu. And I felt that I was obliged to somehow commemorate his existence, to dedicate something to him. And as he was a great master of string quartets I decided this genre would be the best for his memory.
Read the full interview at the following link:
Gavin Dixon on seenandheard-international.com