This is just a quick post to link to some relevant news, photos, and an update on my work.
Performances
Perhaps the biggest news story in Weinberg circles is the success of 'The Passenger', with two different productions currently playing around the world at the moment. One is in Frankfurt, which been playing to rave reviews.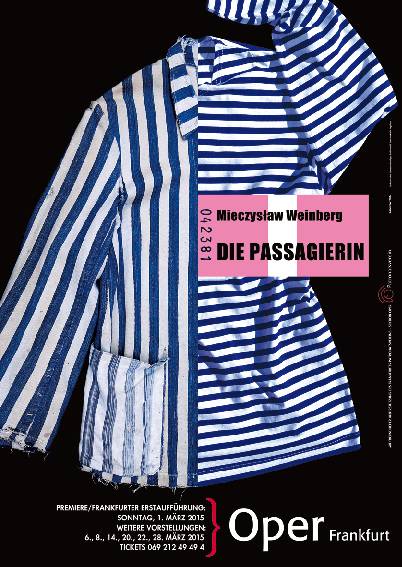 The other is at the Lyric Opera in Chicago, and has been receiving enormous amounts of praise. Quotes include:
'...the most amazing opera I have ever seen'.
'What a gift Zofia Posmysz and Mieczyslaw Weinberg have given to the world...'
'An overwhelmingly powerful production and performance'.
- Link to a wonderful storify collection of tweets and posts
here
.
The last performance in Chicago will be on 15 March - the next US run will be in Florida, 2016.
The Passenger
's wave of success continues.
Reviews include:
'Weinberg's music is most impressive in the quiet moments... while there are reservations to be had about the opera itself, the Lyric Opera has done itself proud with this show...'
- Lawrence A. Johnson, writing for Chicago Classical review -
link
.
'Miecyzslaw Weinberg, the most famous, prolific composer you've probably never heard of (1919-96), achieves something that in my many years of working with the Spielberg Shoah Project, I never imagined I would encounter: a work that, on the one hand, gets the cruel facts right, and, on the other, uses them to address universal ideas of morality, memory and love.'
- Anon, The Times Weekly -
link
.
'Nothing in Lyric Opera's searing production of Mieczyslaw Weinberg's The Passenger is more dramatic than the cover of the program, with its strip of three photos of writer Zofia Posmycz, whose novel was the opera's inspiration. '
- Deanna Isaacs, writing for Chicago Reader -
link
.
(For a much more negative review...)
'The question on my mind as I listened to the second act of Mieczyslaw Weinberg's opera "The Passenger" at the Lyric Opera Tuesday night was: Am I listening to great musical art?
The answer, unfortunately, was "no."'
- Bill Sweetland, writing for Newcity Stage -
here
.
An interesting point that I've picked up on - and that I'd love confirmation for from any readers who've attended the Lyric Opera performances - is that Marta appears to be billed as 'Marta/Zofia'. The portrayal of Marta literally as Zofia Posmysz always struck me as a flaw in Pountney's otherwise brilliant production - if they've now been so blatant as to write this in the programme, I'm surprised.
Photographs
Two previously unknown photos of Weinberg:
From a Sovetskaya Muzïka article, published 1960




From a Muzïkalnaya Akademiya article, published 1994
My own work
Progress on my thesis is going well (four chapters down out of six!). In addition, I have two different writing projects on the go at the moment - a report on Weinberg research for the
DSCH
journal, to be published in July, and a review of several recent Weinberg scores, to be released by Winter 2015.
I've been enjoying my teaching commitments this semester - including the chance to finally lecture on Weinberg's quartets! I've also been writing programme notes for the Quatuor Danel - including for a performance of Weinberg's Sixteenth Quartet, and for an upcoming performance of Tchaikovsky's String Sextet.
I also recently spoke at the Manchester PubHD event - where Doctoral Researchers get to summarise their work to a room of listeners in a pub. See their charming summary of my work below:
Our first speaker was Daniel Elphick, who spoke for ten minutes on Weinberg's String Quartets. We got to hear a brief history of Weinberg's life, the society in which he grew up, and how the culture of the time reflected his music, and how his music is in turn culturally relevant. Some of Daniel's work is about making Weinberg's work available to present-day musicians, so that we can hear his music played again now. Speaking of which, Daniel played excerpts from the String Quartets during his talk to illustrate the concepts he was presenting – this really livened things up, and thanks to the understanding nature of the landlord, we were allowed to play some more of this music during the interlude before the next speaker.
See the full report
here
. My thanks go to the organisers of the event - there are branches of PubHD in Manchester, Nottingham, and Leicester.
The question on my mind as I listened to the second act of Mieczyslaw Weinberg's opera "The Passenger" at the Lyric Opera Tuesday night was: Am I listening to great musical art?
The answer, unfortunately, was "no."
- See more at: http://newcitystage.com/2015/02/27/review-the-passengerlyric-opera-of-chicago/#sthash.447cwLv4.dpuf
The question on my mind as I listened to the second act of Mieczyslaw Weinberg's opera "The Passenger" at the Lyric Opera Tuesday night was: Am I listening to great musical art?
The answer, unfortunately, was "no."
- See more at: http://newcitystage.com/2015/02/27/review-the-passengerlyric-opera-of-chicago/#sthash.447cwLv4.dpuf