Releases (both available and upcoming)
The last few months have brought a rich variety of Weinberg-related recordings (see my recent review posts). Here are two recordings that have caught my attention recently, both of which I am eagerly awaiting in the post:
The Pacifica Quartet, 'The Soviet Experience, Vol. IV', Cedille, 2CD-set.
The Pacifica Quartet have been attracting numerous awards and column-inches for their excellent Shostakovich cycle, unique in pairing their releases with other Soviet quartets contemporaneous to the Shostakovich works featured. Of course, their third volume included Weinberg's Sixth Quartet in a masterful interpretation. This final disc features Schnittke's Third Quartet, perfect programming alongside Shostakovich's last three quartets. Several commentators have called for the group to record the remaining Schnittke quartets as a seperate project. Of course, I invite them to record as many Weinberg quartets as possible (and Myaskovsky, for that matter). Amazon
link
.
Ewelina Nowicka (violin), Milena Antonewicz (piano), 'Mieczysław Weinberg: Works for Violin and Piano', RecArt, Poland.
This album adds to the considerable amount of discs already released this year dedicated to Weinberg's works for violin. Works featured include the Sonatina, Op. 46,
Rhapsody on Moldavian Themes
, and the
Concertino, Op. 42, recorded for the first time in its arrangement for violin and piano. Available from amazon
here
and jpc.de
here
. More info available from the RecArt website:
link
.
UPCOMING RELEASES: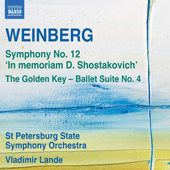 St. Petersburg State Symphony Orchestra, Vladimir Lande, 'Symphony No. 12, Golden Key Suite No. 4'
Coming in January, the next installment of Naxos' hugely successful series of Weinberg's symphonies, this release featuring his twelfth, dedicated to Shostakovich. Paired alongside is the fourth suite from Weinberg's ballet
The Golden Key
, an extremely charming work to go with it. More info available here:
link to Naxos page
.
And, for the other upcoming release that I'd like mention, I have no CD cover photo, yet (UPDATE 19/12/13 - Yes I do, see above). Several websites have listed a new release by Gidon Kremer and the Kremerata Baltica, to be released in January. Information is extremely scarce, but several sources suggest that it will be a 2CD set, dedicated to orchestral works by Weinberg. I expect very good things; I shall update as and when more information becomes available.

---UPDATE---

(18/12/13)

I have found a track-listing for the Kremer double-album, with a release moved back to February 2014. The works featured will be:

Disc 1
Sonata No. 3 for solo violin Op. 126
Trio for Strings, Op. 48
Sonatina for Violin and Piano, Op. 46

Disc 2
Concertino for Violin and Orchestra, Op. 42
Symphony No. 10, Op. 98

It is interesting to see a blend of chamber and ensemble music over the course of a set, but I'm sure Kremer and his Orchestra will not disappoint.


My own work
Progress with my PhD-work is chugging along nicely, with looming chapter deadlines. I will be speaking at the RMA Research Student's conference at Birmingham University in January 2014, on the topic of 'The Influence of Anxiety', speaking on various theories on the aesthetics of influence in music.
I'm also delighted to announce that I have been invited to speak at an international conference held at Leeds University, 'Continuities and Ruptures: Artistic Responses to Jewish Migration, Internment and Exile in the Long Twentieth Century'. The title of my paper is 'Commemorating the Past: Weinberg's Experience as a Jewish Migrant in the USSR', and I shall be speaking on Weinberg's experience as a Jewish-Polish migrant to the Soviet Union, and the reception that he enjoyed over the course of his life.
I shall update this post with more news/releases as and when I am aware of them. Do check back to this blog for more album reviews, work-focus posts and details of my upcoming work.